Welcome to a Weekend Writing Warriors snippet. Participants share 8 sentences of our writing, published or unpublished Everyone is welcome to leave a comment. See more at the WeWriWa blog.
Skipping ahead in the story after Adam humiliated Davie by rejecting her in bed because of her virginity. Davie is confused and Adam is perplexed. He can't seem to walk away and Davie can't seem to forgive him. Here's another 8 from Courage of the Heart
(
creative punctuation was used
)
There had been several times when he had started to call her over the weekend, but then he remembered how quiet she had been when he drove her home and tried to apologize. She had actually started to walk home, he followed her with his car for about half a mile before she finally gave in and got in - Adam felt terrible; he knew how badly he had hurt her with his rejection. If only he could make her understand how much he still wanted her, but he didn't know how; If only he could make himself understand why he wanted her so much…
Adam had never felt so frustrated about a relationship before, at least not since he got out of that little Pennsylvania town he grew up in. His teen-age years were filled with memories he wished he didn't have; so long as he could remember that time, though, he'd never be any good for someone as pure as Davie. He had been with a lot of women and he never made any secret of his appetite or his lack of emotional commitment. Adam had told himself that his unusual interest in Davie as a person and not just a sex partner was only a sign of his "growing up", at twenty-five it was bound to happen…eventually. He shook his head, because it was Davie and not his age that was playing havoc with his libido.
For more WeWriWa Snippets, go to: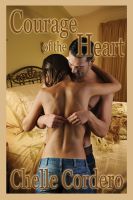 COURAGE OF THE HEART shows us that sometimes love is the only cure for the very deepest of emotional wounds. The story of the two lovers takes a series of unexpected and fast paced turns where lives, sanity and love are put in jeopardy. Their commitment to one another results in a spirit that binds them together and helps them to overcome physical and emotional dangers.
Adam is an unlikely hero with a damaged and shameful past.
Davie Prescott heals him with her love and innocence.
AUDIO, PRINT, and ALL ELECTRONIC EDITIONS
And if you decide to use the Amazon-exclusive Audible.com 30-day free trial membership it includes:
This audiobook free, plus a bonus audiobook of your choice

Exchange any book you don't like with Audible's Great Listen Guarantee

Total flexibility - cancel, pause or upgrade membership easily and whenever you like
If you buy a new print edition of this book (or purchased one in the past), you can buy the
Kindle edition
for only
$1.99
(Save 60%). Print edition purchase must be sold by Amazon.
Learn more
.