Welcome to a Weekend Writing Warriors snippet. Participants share 8 sentences of our writing, published or unpublished Everyone is welcome to leave a comment. See more at theWeWriWa blog.
Davie felt another shudder run through her, "but, I don't know…Adam, I…" She inhaled sharply as she felt his fingers probing inside her, "Adam…I've never…"
For the first time, Adam remained motionless, "never…what?"
"I've…never been with a man before," she sensed his withdrawal before he actually pulled away.
Adam's brow was furrowed, "what are you saying, Davie?"
The icy chill that Davie felt left her feeling embarrassed to be lying naked in bed with this man. She pulled the bed sheet over her exposed breasts, "I've never been with a man…before"
He sat upright in bed seemingly unaware that he was just as naked as she was, "Are you telling me that you're a virgin?"
For more WeWriWa Snippets, go to: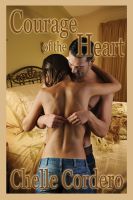 COURAGE OF THE HEART shows us that sometimes love is the only cure for the very deepest of emotional wounds. The story of the two lovers takes a series of unexpected and fast paced turns where lives, sanity and love are put in jeopardy. Their commitment to one another results in a spirit that binds them together and helps them to overcome physical and emotional dangers.
Adam Sherman has remained quiet about his scandalous past and is comfortable with his reputation as a womanizing and dedicated bachelor. He is an expert in the field of computers including programming, networking and hacking. At twenty-five years old, he is content with his management job at a local Internet Provider.
Davie Prescott is twenty years old and a college student who is working part-time at the same Internet Provider where Adam is employed. She was raised in a very close knit family of aunts, uncles and cousins. She and her widowed father are very close. Adam is attracted to Davie, but he shies away from her innocence because he feels his shameful past is too harsh for her existence. Adam finally shares his darkest secret with Davie and is amazed to find that she doesn´t turn away from him.
But when Adam's past catches up to him, he soon learns that there´s a lot more at stake than just his nightmares. Adam is prepared to give Davie up if need be in order to protect her until he learns that she´s got a secret of her own. With Davie´s help, Adam learns a courage that is born of love, courage of the heart.