Hi! Welcome to another Weekend Writing Warrior round. Every week writers post 8 sentences on their blogs from a published or unpublished book. Then we "hop" around and leave comments on each other's snippets. Whether our work is already published or in progress, the helpful comments help us become stronger writers on our next WIP. We welcome EVERYONE's comments.
Continuing with Courage of the Heart: Davie has been rejected and feels humiliated, she's mad as hell. Adam finds he can't walk away and he is not giving up. In this scene he's shown up (unexpectedly) at her door to invite her to dinner. She softens and instead invites him in to share some of the Thanksgiving leftovers that she brought home with her from her family get-together.
"We really seemed to have a good time together until I acted like such an ass, I'd like to try again."
Davie hesitated, "You never did tell me why?"
"You told me you couldn't be the first, why not?" She was puzzled, "I thought most guys loved to be the first. I don't know, I always thought guys wanted to take a girl's virginity because it was like some special prize or something."
"I, uh…" He turned away from her, "It's a big responsibility, besides I don't want to hurt you, physically I mean."
She looked at him incredulously, "That's really lame."
For more WeWriWa Snippets, go to: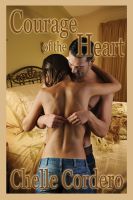 AUDIO, PRINT, and ALL ELECTRONIC EDITIONS

And if you decide to use the Amazon-exclusive Audible.com 30-day free trial membership it includes:

This audiobook free, plus a bonus audiobook of your choice

Exchange any book you don't like with Audible's Great Listen Guarantee

Total flexibility - cancel, pause or upgrade membership easily and whenever you like
If you buy a new print edition of this book (or purchased one in the past), you can buy the
Kindle edition
for only
$1.99
(Save 60%). Print edition purchase must be sold by Amazon.
Learn more
.
Wishing everyone a wonderful, joyous
and fulfilling Thanksgiving.