Welcome to a Weekend Writing Warriors snippet. Participants share 8 sentences of our writing, published or unpublished Everyone is welcome to leave a comment. See more at the WeWriWa blog.
This week we continue with Courage of the Heart, from my Survivor Series.
Last week Adam angrily rejected Davie during lovemaking when he learns she is a virgin:
She watched incredulously as he pulled a pair of jeans on, "I'm sorry," suddenly
Davie
felt angry, "If you thought that I thought it was going to be some kind of commitment you don't need to worry, I got carried away… don't worry, it won't happen again." She stood taking the
bed-sheet
with her to cover herself, "If you don't mind giving me some privacy, I'll get dressed."
Her anger made him feel contrite and he responded in much gentler tones, "I'll take you home as soon as you're ready."
"Don't bother, I'll manage on my own," She stared at the bedroom door pointedly, but he didn't budge. "Fine," Davie dropped the linen to the floor and picked up her clothing.
Earlier, Adam's body had felt as cold as if he had been blasted with icy water, but as he got another glimpse of her astonishingly beautiful naked body again, he was happy he had donned his pants to hide his reaction.
"I… I'm sorry", he turned his back to her, "I… I just can't be… the first."
For more WeWriWa Snippets, go to: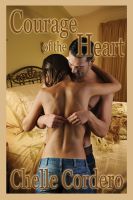 COURAGE OF THE HEART shows us that sometimes love is the only cure for the very deepest of emotional wounds. The story of the two lovers takes a series of unexpected and fast paced turns where lives, sanity and love are put in jeopardy. Their commitment to one another results in a spirit that binds them together and helps them to overcome physical and emotional dangers.
from Amazon
Adam Sherman is a computer expert and a womanizer who is dedicated to "Bedding but not Wedding." When he becomes aware of Davie Prescott, a twenty year old student who works part time at the same place that he does, he pursues her.