Hi! Welcome to another Weekend Writing Warrior and Snippet Sunday round. Every week writers post 8-to-10 sentences on their blogs from a published or unpublished book. Then we "hop" around and leave comments on each other's snippets. Whether our work is already published or in progress, the helpful comments help us become stronger writers on our next WIP. We welcome EVERYONE's comments.
I am sharing snippets from a new short story I wrote,
Always One More Time. This story has just been released in a terrific anthology called HeartWorks ~
Eight Great Stories of Love, Passion, and Romance from Vanilla Heart Publishing Authors Charmaine Gordon, Paul Zunckel, Chelle Cordero, Neva Squires-Rodriguez, Lauren Shiro, Tamara Philip, Gwendolyn Jensen-Woodard, and Angela Kay Austin.
Callie met some opposition when she told the truth about her relationship with Jimmy. Rest assured there is more to come, a lot more will be disclosed next week.
Creative editing alert! Here are ten lines...
"Leisha you shut your mouth," Mrs. Bernerd yelled at her daughter. She turned back to Callie, "now girl, why are you coming here to tell me that my son had some kind of dalliance with you?"
Lawrence sounded suspicious, "are you trying to blackmail us or something?"
"I," Callie looked nervously between the three, "I just," she began to hyperventilate.
Leisha strutted towards Callie and pointed her finger, "she probably wants to claim that the black guy forced her."
Mrs. Bernerd noticed that Callie was having difficulty breathing, "you sit girl and catch your breath then we will talk." The older woman stood, "Leisha, Lawrence, I am an old woman in mourning for a son, I am not feeble and I don't need your interference"
"But Mama, she's—" Lawrence tried to plead with his mother.
"I said to stay out of it, we do not know what she is or what she wants, you are to stay out of it; I will hear her out and I will be the one to make the decision what to do about her." She stopped and looked at each of her offspring, there was complete silence, "you can stay in the room, but if I hear a single breath from any one of you, you will leave; is that understood?"
~~~~~
For more WeWriWa Snippets, go to:
"Have enough courage to trust love
one more time.
And always, one more time."
~ Maya Angelo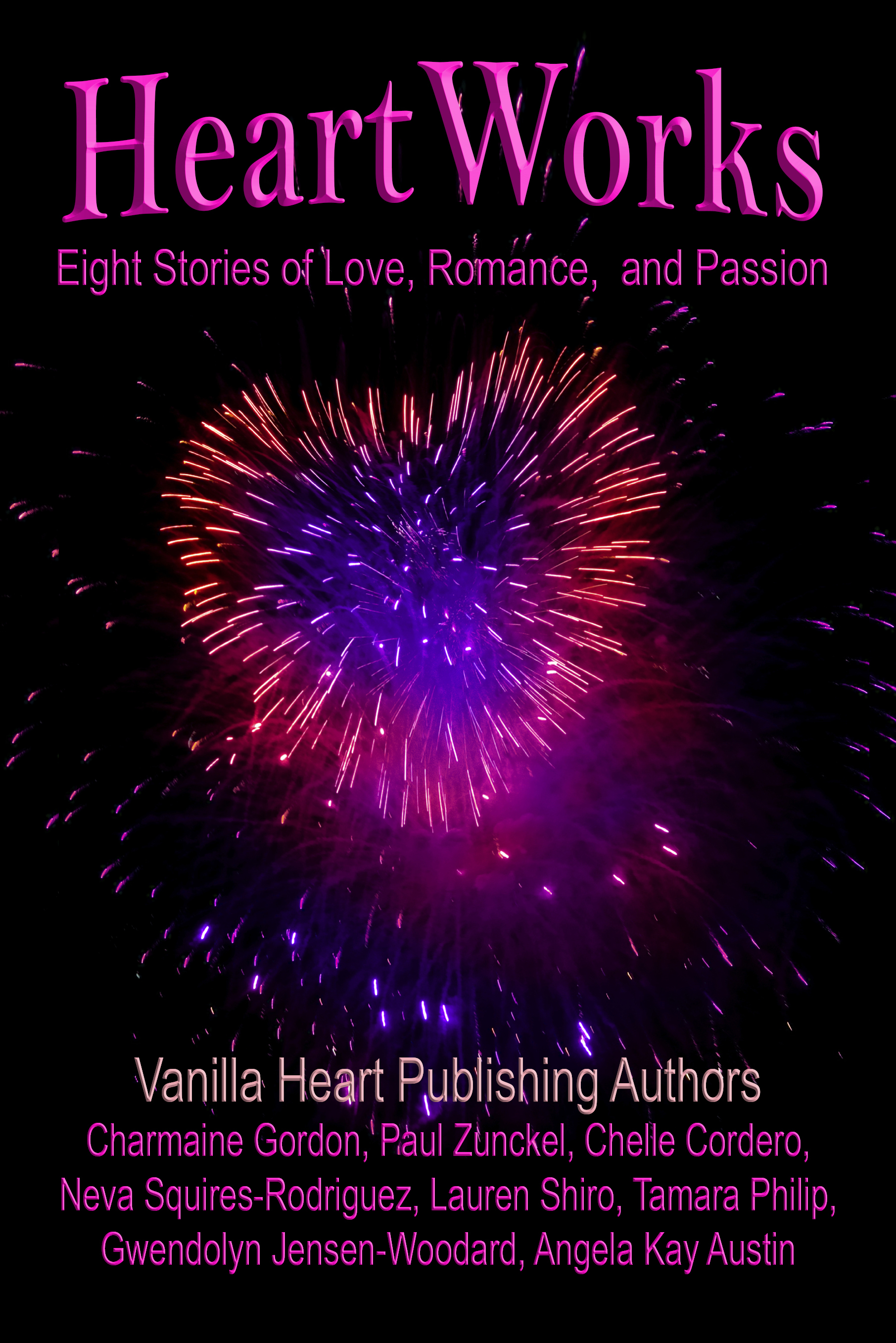 Buy Links
Smashwords
Kindle
~~~~~
Eight Great Stories of Love, Passion, and Romance
from Vanilla Heart Publishing Authors
HeartWorks
Gleason's Greetings
by Charmaine Gordon
Liz Gleason brings laughter and joy into the neighborhood when she opens a card shop. Designing her own humorous greeting cards, business booms and romance blossoms. Is it all too soon when a TV producer shows interest in Liz and her shop?
Ń Boer maak ń Plan
(A Love Story) by Paul Zunckel
Piet van Zyl finds himself like a fish out of water on meeting the lovely Peggy. The man that will stand down a charging buffalo…the man who is never without a quick chirp…the man, who has an answer for everything has finally met his match…now he is out of his depth, for cupid was around and his arrow hit the burly South African dead center.
Always, One More Time
by Chelle Cordero
Disowned by her parents because of an interracial love affair, Callie Sanders is left alone to raise her son after his father, Jimmy Bernerd, dies fighting in a war on the other side of the world. Desperate to give her son a family she goes to the Bernerd household — what she finds is a second chance at love, acceptance, and family.
The Fourteenth Floorboard
by Neva Squires-Rodriguez
Valentine's Day uncovers a new world hidden in her home that no one, including Gabriela, can understand. Not even scratching her own arm helps Gabriela understand that this place is real, and part of the reason is that she uncovers a secret bigger than life itself. Her family tries to convince her to never go to this place again, but Gabriela soon learns for herself, the price associated with getting her there, and that some things are better left unknown.
Love, Upside Down
by Lauren Shiro
Chantal is sure of two things: her general contracting business, and her love for her old flame, Desiree. A serious car accident changes everything, causing her to stop working; and she meets someone new in Grace, a friend of a friend who becomes her care giver. This accident turns her world upside down, even her love.
Feeding Romance
by Tamara Philip
Excerpts from Tamara's award-winning debut novel, The Trouble with Playing Cupid along with the recipes for delicious meals the lovers feed each other along the way, including December's Favorite Buttermilk Pancakes, Tom's Creamy Pasta Primavera for Two, and Cupid's Hot Chocolate (guaranteed to inspire love and adoration from all who drink it).
Heart of Night
A Nightlife Short Story by Gwendolyn Jensen-Woodard
Lady Jannessa Guillory was the daughter of an ambassador, and therefore it was her duty to marry to her station, and to help her father. Yet, the night called to her in such a way she couldn't deny it. And when a voice found her in the dark, she knew she couldn't stop her own passions.
Sweets for Your Sweet
by Angela Kay Austin
Excerpts from Angela's Sweet Victory, along with the recipes for a few of the sweet treats Victoria makes after her move back home to Memphis – and too near to Chad. Includes Sweet Victory itself: a delightful chocolate no-bake treasure of coconut and pecans, and Victoria's favorite comfort food – baked macaroni and cheese.