Hi! Welcome to another Weekend Writing Warrior round. Every week writers post 8 sentences on their blogs from a published or unpublished book. Then we "hop" around and leave comments on each other's snippets. Whether our work is already published or in progress, the helpful comments help us become stronger writers on our next WIP. We welcome EVERYONE's comments.
My entry this week is from Common Bond, Tangled Hearts.

Layne Gillette's world is turned upside down when a man she has never met shows up to lay claim as the father of her 6-year old son.
Justin was feeling totally frustrated because of Layne's reaction to his announcement and he went back to his motel room to brood and hopefully give her some time to cool down. He wasn't a man who was used to being told no and right now all he was thinking about was how this situation complicated his life. (Don't worry, he may be spoiled, but he really isn't as heartless as he thinks he is...) This snippet has been edited to fit, even though we're permitted up to 10 I am still aiming for 8 so I don't feel guilty when I go over.
...and now the eight nine:
"Damn it," Justin paced the short length of his motel room; this little nothing town was one of the last places he wanted to be. Damn Davis for insisting that he had to "get this matter cleared up", damn his brother for leaving him the only heir, and damn his grandfather for dying and dumping everything on his shoulders.
After a rocky start Justin had been a model student for years until he earned his master's degree, he drank only moderately and partied occasionally. There had been a few college girls he saw on a serious level, but he never got carried away; he never made promises and he never once thought of a future with any of them. That was why he was so surprised when the family attorney, Larry Davis, told him he was a father.
"That's impossible," Justin protested, "I was always very careful. If some girl told you it's mine, don't believe it." He had always been a careful and considerate lover and when it came time to end a relationship, he always did it gently. He'd bet his life he never got any girl pregnant.
For more WeWriWa Snippets, go to:
About Common Bond, Tangled Hearts
Layne Gillette's world is turned upside down when a man she has never met shows up to lay claim as the father of her 6-year old son.
Justin, the victim of a fraternity prank, and Layne, the subject of a forced insemination, have produced a beautiful child that they are both willing to protect… at all costs.
The two parents realize they can love each other, but when Layne's abusive "ex-husband" shows up, they are torn apart by danger, kidnapping and lies. Justin won't give up until Layne is returned to him. Layne uses her newfound strength, courage and knowledge to defy Charlie's ugliest demands.
It's EMS Week 2015 ~ May 17-23
& I will be featuring contests and giveaways all week.
EMS STRONG
I rode as a volunteer EMT for nearly 30 years
and finally gave it up
(leaving it for the younger set)
But it is still very dear to me.
My publisher released a combined e-book edition of
both of my EMS Suspense novels
just in time for EMS Week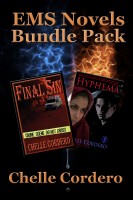 Smashwords
Follow me on Twitter @ChelleCordero
my Facebook Author Chelle Cordero
my website & here
and find out how you can win books!